Green Design
Sustainable architecture is the design of sustainable buildings. Sustainable architecture attempts to reduce the collective environmental impacts during the production of building components, during the construction process, as well as during the lifecycle of the building (heating, electricity use, carpet cleaning etc.) This design practice emphasizes efficiency of heating and cooling systems; alternative energy sources such as solar hot water, appropriate building siting, reused or recycled building materials; on-site power generation – solar technology, ground source heat pumps, wind power; rainwater harvesting for gardening, washing and aquifer recharge; and on-site waste management such as green roofs that filter and control stormwater runoff. This requires close cooperation of the design team, the architects, the engineers, and the client at all project stages, from site selection, scheme formation, material selection and procurement, to project implementation.
Mountainworks has always been environmentally conscience in it's designs. Green, sustainable and hybrid dwellings help by eliminating wasteful resources and are friendly to our delicate environment.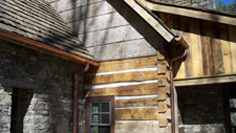 Hybrid Construction:

More than one type of construction. Conventional construction mixed with alternate construction types such as antique log and/or timberframe.
Green/Sustainable:

Earth sheltered, solar or high performance structures with low environmental impact building materials and methods, many times using reclaimed or recycled materials.